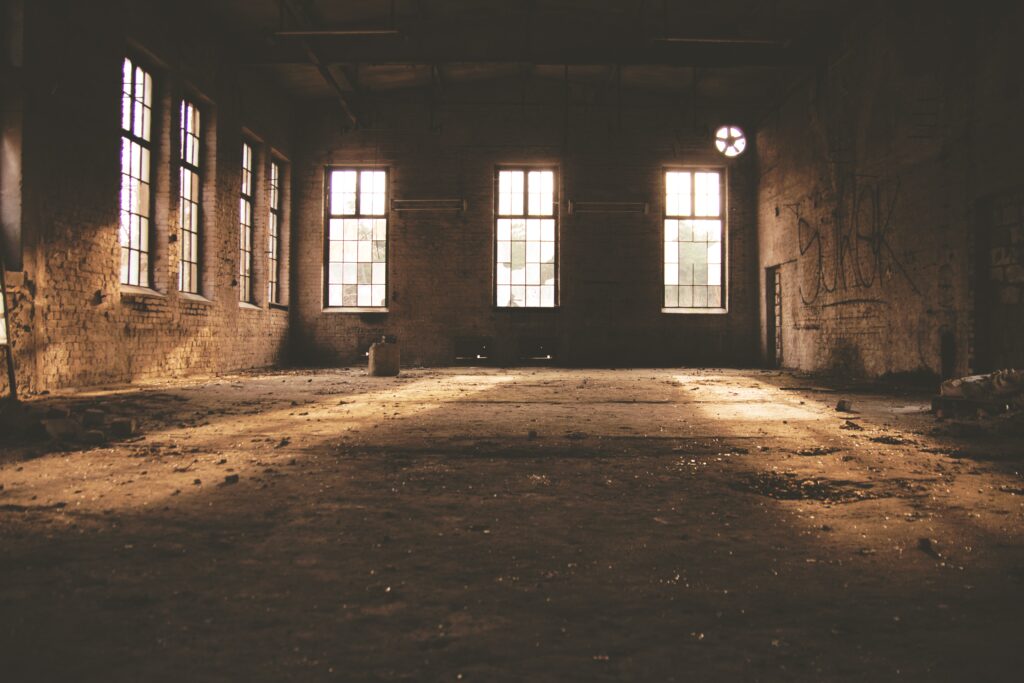 A dark shell is a commercial property that lacks interior finishes, such as heating, lighting, interior walls, plumbing, and air conditioning. Other common names are a cold dark shell, a cold shell, a grey shell, or a base shell. There are several other types of "shells," which are also offered in an incomplete state. However, dark shell buildings are probably the most common. A warm shell (also referred to as a vanilla shell, a vanilla box, or a white box), for example, typically has heating and A/C, plumbing, restrooms, and lighting, but may have other parts of the interior that are unfinished.
Oftentimes, a property may start out as a cold shell and end as a warm shell. This can happen if the landlord or some other party agrees to make the necessary improvements to convert the building to a warm shell after a contract is signed. In certain agreements, a tenant improvement (TI) allowance can be offered to offset some costs that a tenant would accrue by making their own improvements.
Is It Worth It To Lease a Dark Shell?
As mentioned above, there are variations of the dark shell. However, this one is more ideal for those who are looking to completely customize a space. This can give tenants more freedom, personalization, and efficiency than if they were to purchase an already finished space.
With a dark shell, the tenant has more liberty. They can decide where to put their bathrooms, design their ducting system, choose interior finishes to use, and more.
When a building owner finishes a space, it will likely be done to building standard finishes. This may not be desirable or even useful for the tenant's own needs.
Dark Shells May Be More Cost-Efficient
Because of the additional work and money involved, dark shells are usually offered at lower costs than fully finished buildings.
Tenants may also be able to regain some of their initial investments through lower rates and tax write-offs.
As mentioned before, landlords often offer tenant improvement allowances (TIA) in order to make their space more appealing to potential lessees.
Tenant improvement allowances are funds paid to the lessee by the landlord after the build-out has been completed. Essentially, it's a refund for finishing the landlord's building.
Other Shell Lease Variations and Considerations
When it comes to the finish level of a commercial property, there are a large number of variations. For example, some builders define a warm, gray shell as a property with an electrical panel and an HVAC unit provided, but without full electrical wiring or HVAC installation. It's imperative that you know what kind of property you're dealing with before signing any contracts.
Sahene Construction Can Help With Your Commercial Build-Outs
If you're interested in leasing a dark shell, the Sahene Construction team are your contractors to assist with any improvements you need to make it perfect for your commercial needs. Contact us today to get started!